Dada Mail v11.2.0 is out the door! Being a feature-rich release, there's a quite a few things to go over. Below will expand upon the changelog to help you discover the new features in Dada Mail.
No, "Send a Webpage" screen! (But don't worry!)
Dada Mail v11.2.0 is the first release to remove the Send a Webpage screen since it was introduced many, many years ago. Please don't worry though, ALL the features found within that screen have been folded into Dada Mail's Send a Message screen. We're hoping that this design change helps simplify how and where you can go from within the list control panel to create a message.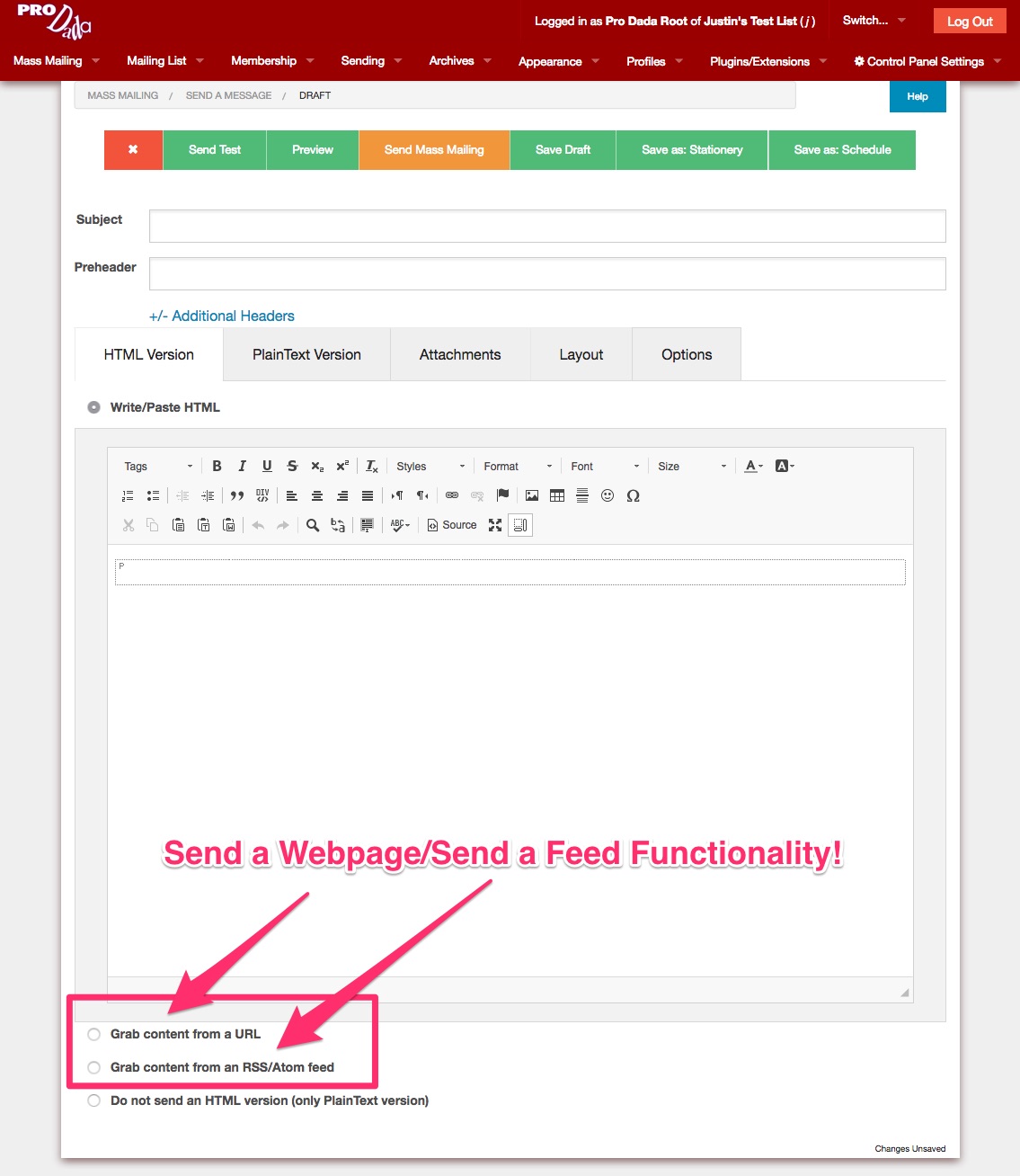 Look below the rich text editor for additional ways to create a message.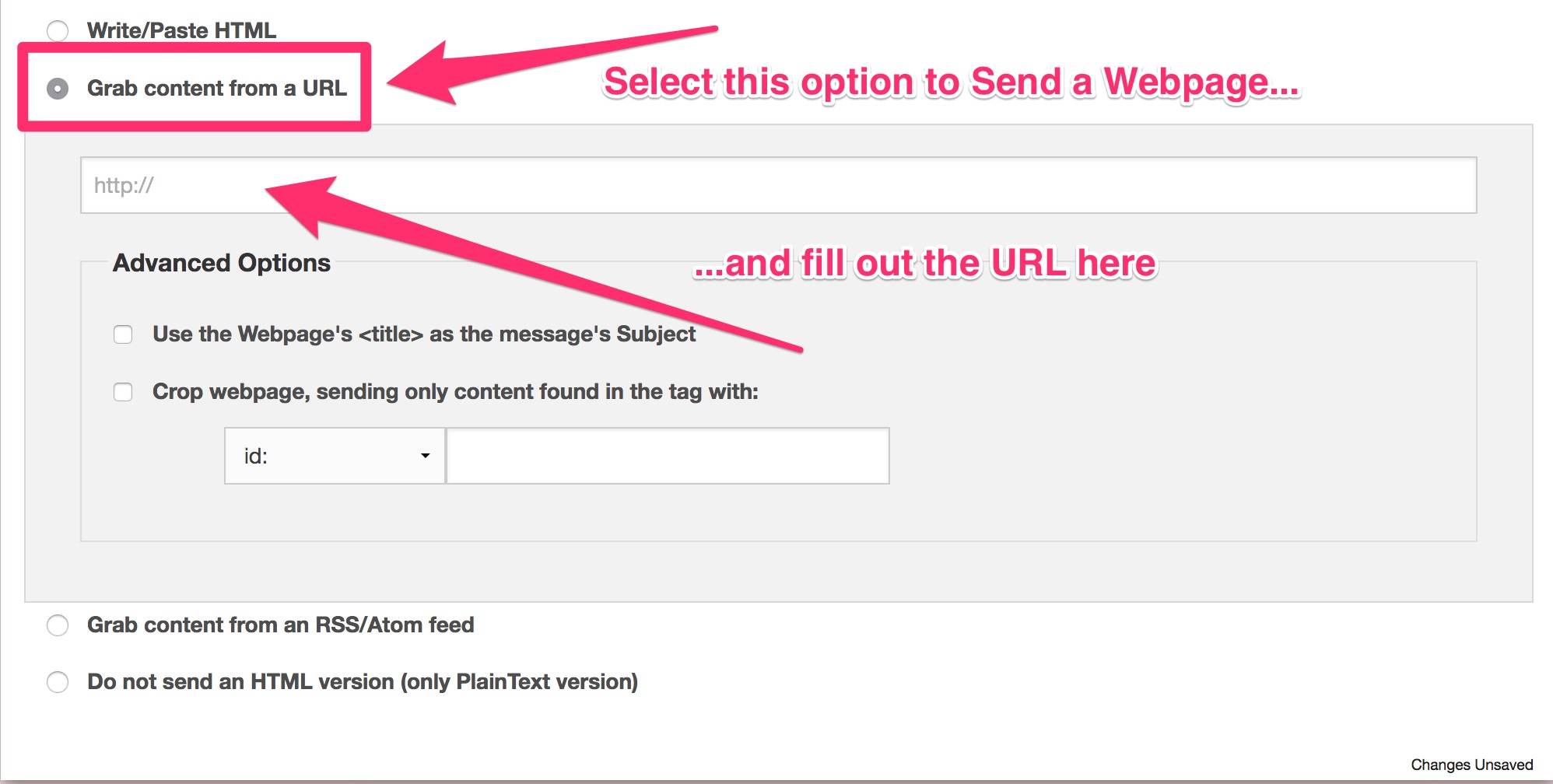 A mass mailing message can be created by:
writing or pasting content into the rich text editor
fetching the message from a specific URL
creating the message from a RSS/Atom feed
One small, but important change you'll also discover is a simple check for any unsaved changes. If you do navigate away from the, Send a Message screen with any unsaved changes, a prompt will alert you about this, and give you a choice of canceling the navigation.

We've also changed the list control panels top menu:
Drafts/Stationery/Schedules now reads, All Drafts/Stationery/Schedules. This screen is where you would select the draft message you would like to work with. This screen is also the default screen you'll see when you log into your list control panel.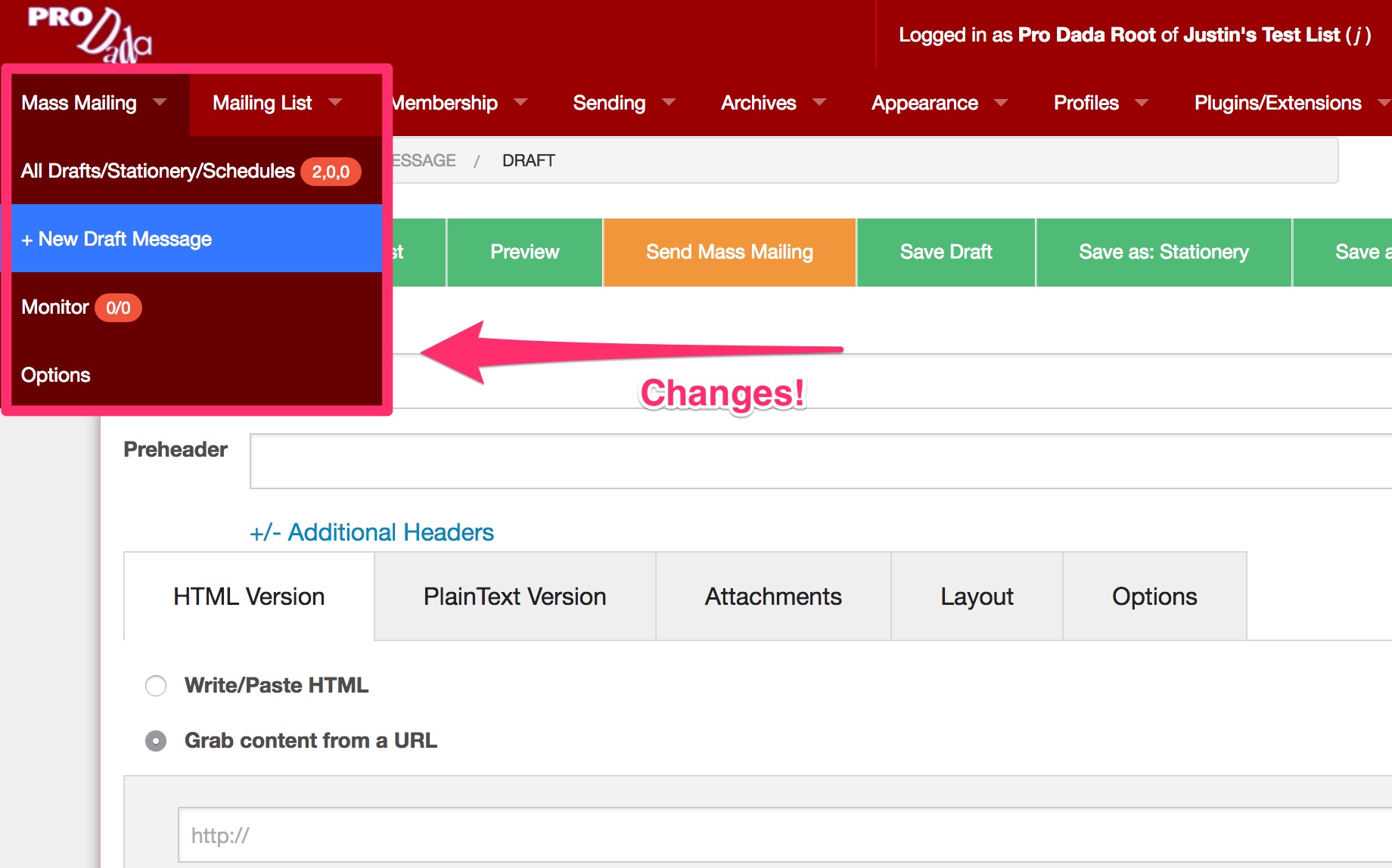 We're hoping these changes help simplify creating and working with multiple draft messages.
The All Drafts… has a few changes itself. The biggest one is the inclusion of a, Preview button, so you can see and compare draft messages, without having to go to the Send a Message screen!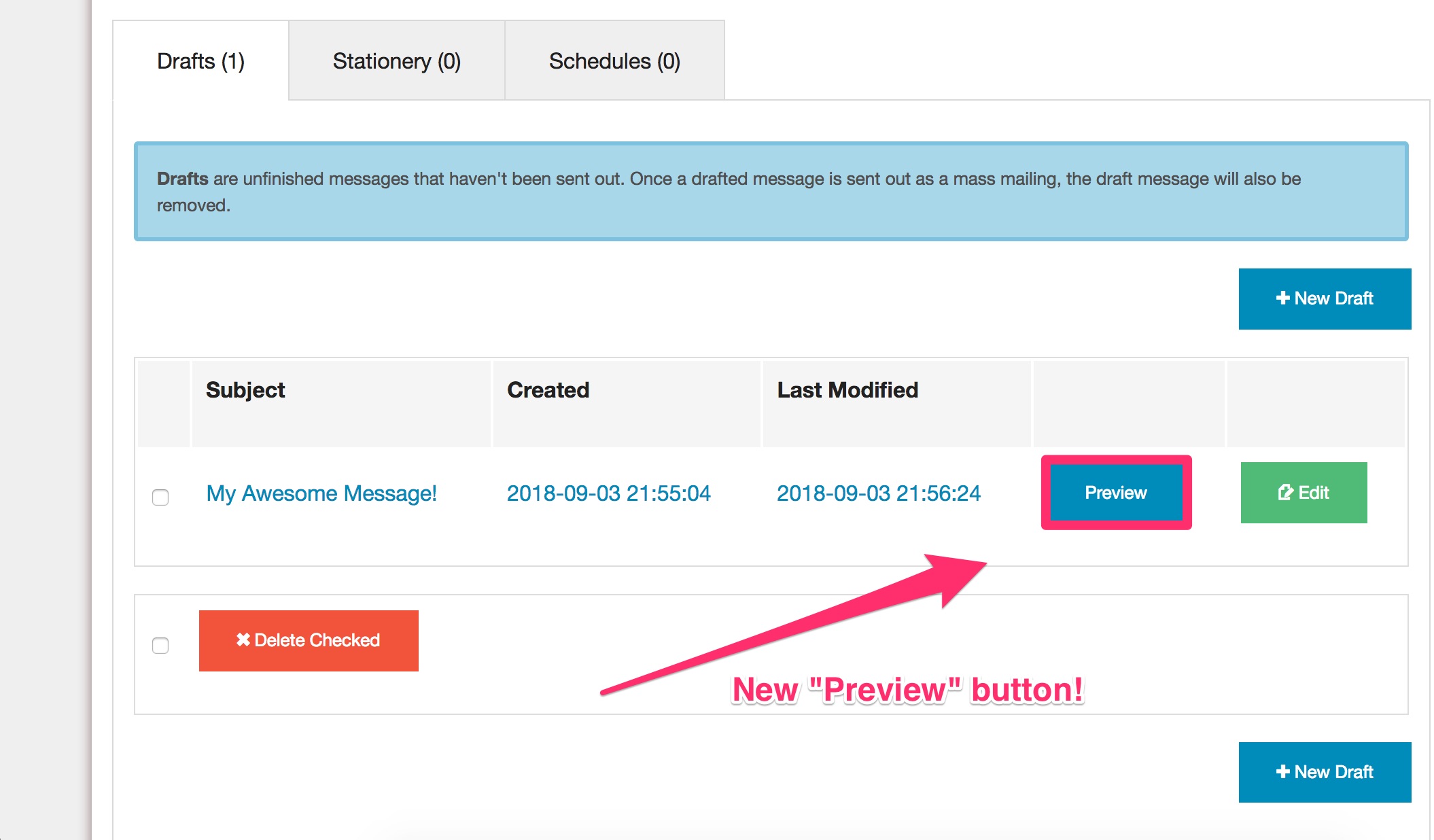 (once clicked)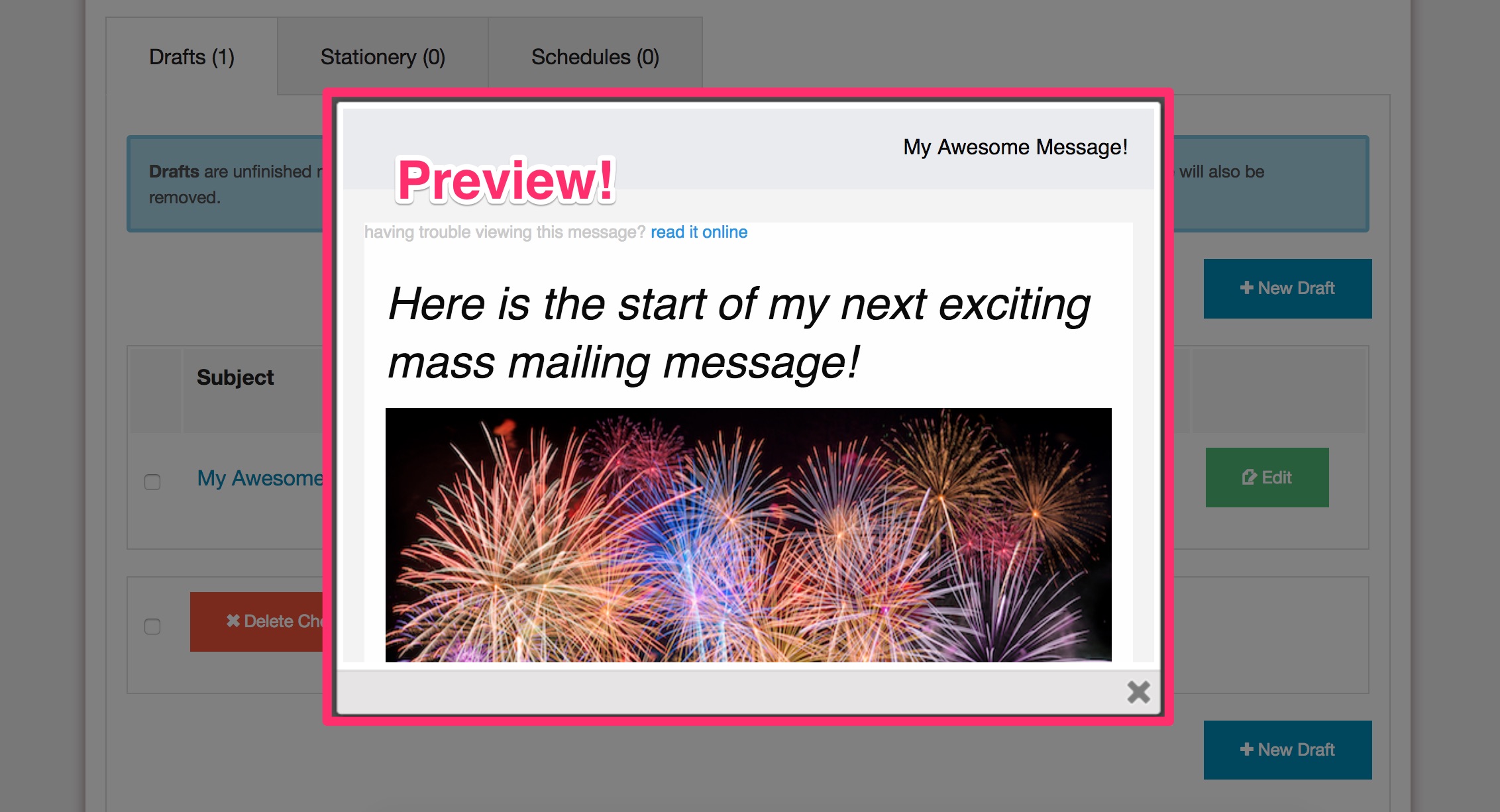 Both Send a Message and Send a Webpage aren't listed. Instead a new menu item reads, + New Draft Message. Clicking on this menu item will take you to the Send a Message screen, and will always create a new draft message, rather than loading an already-existing draft message.
New Option: Save Sent Draft Messages as Stationery
Many times, people would like to re-use a previously sent message for a new mass mailing. Now,
Dada Mail has an option to save previously sent messages you've authored in the list control panel as
new stationery messages, which you can then use to create a new draft message from.
Here's how:
Once logged in, go to, Mass Mailing: Options.
Find the option labeled, Save sent draft messages as stationery.
Check that option to enabled it, then Save.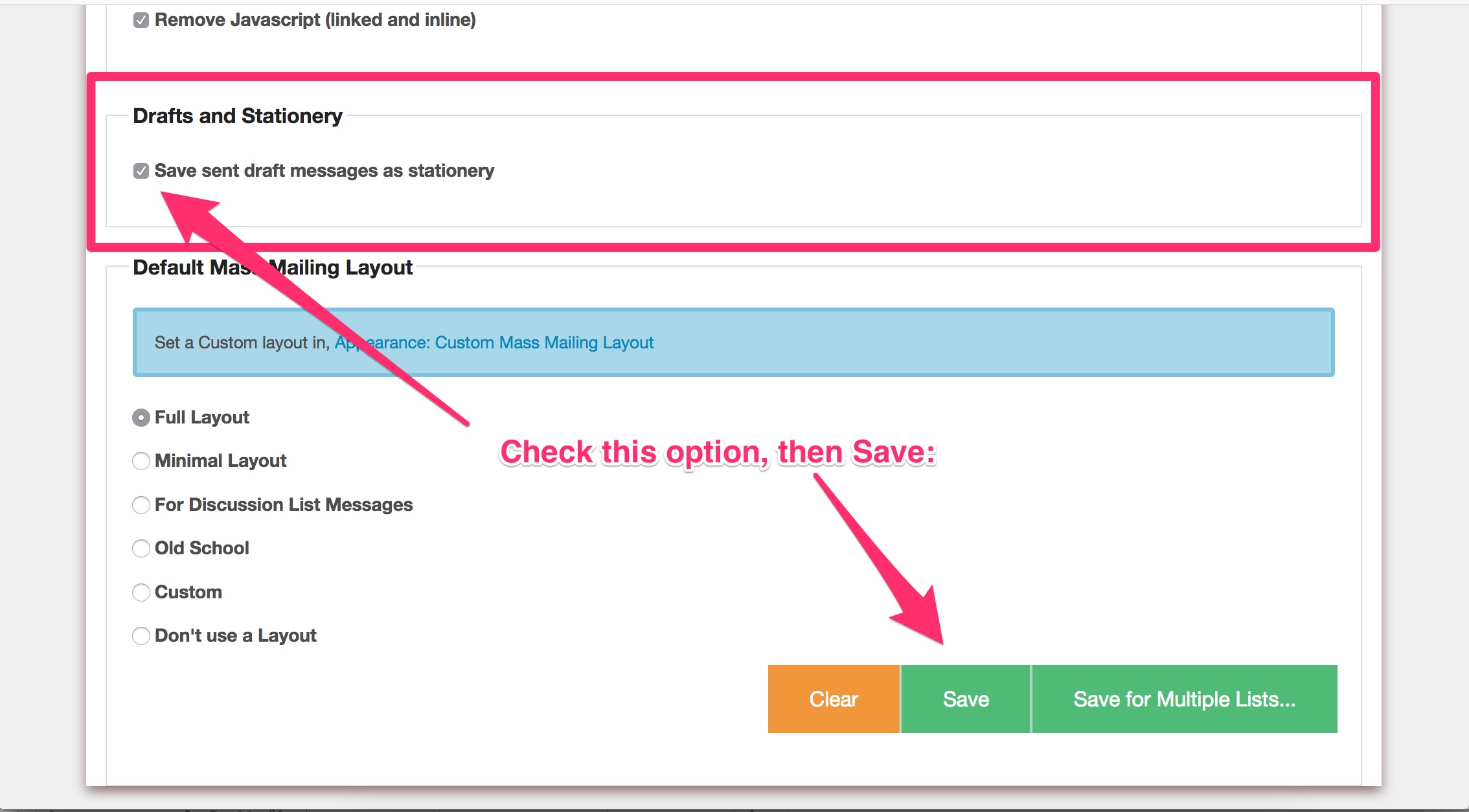 Drafts messages sent from the, Send a Message screen will now be saved as Stationery, able to be re-used for a future mass mailing message draft.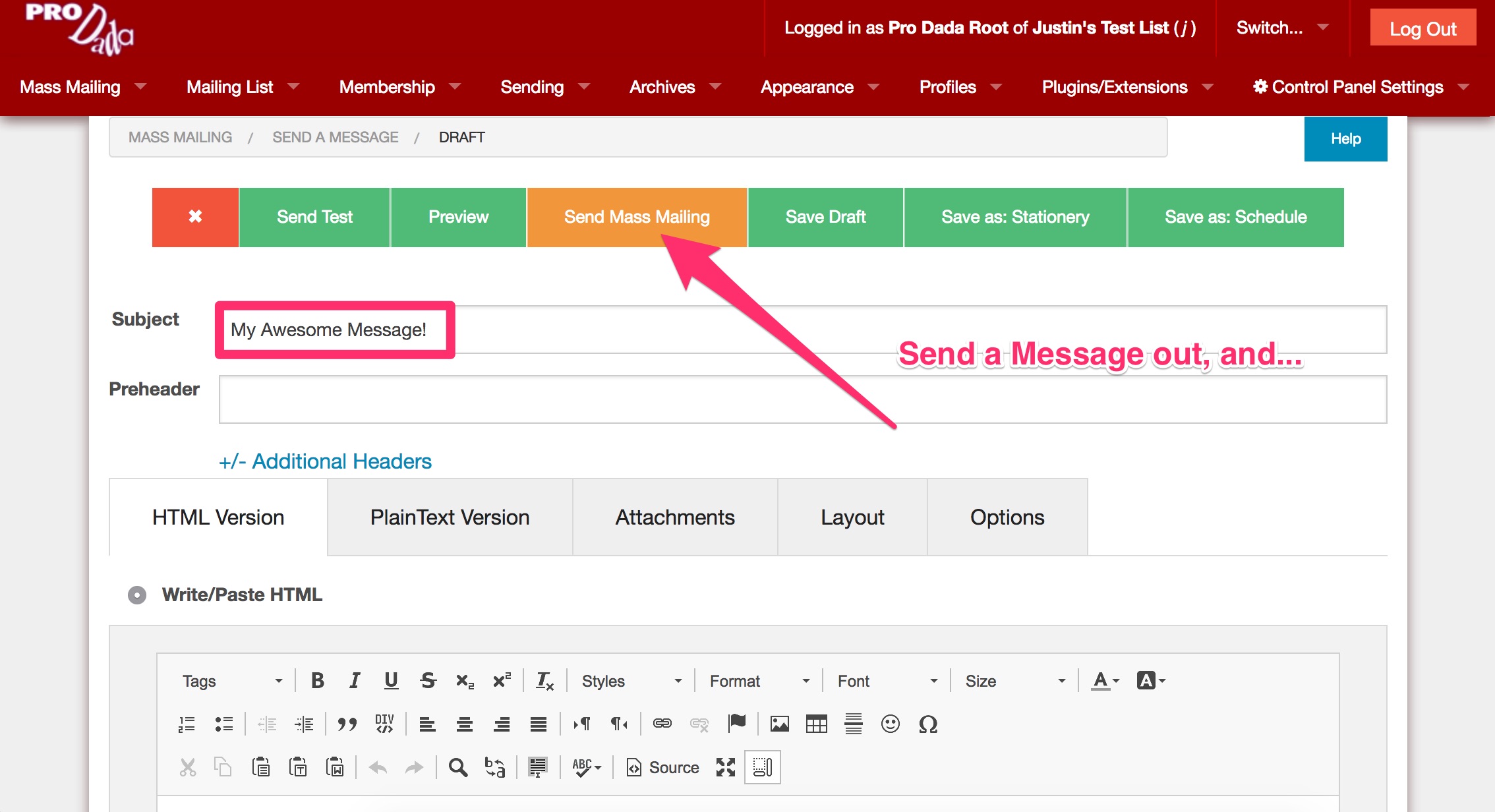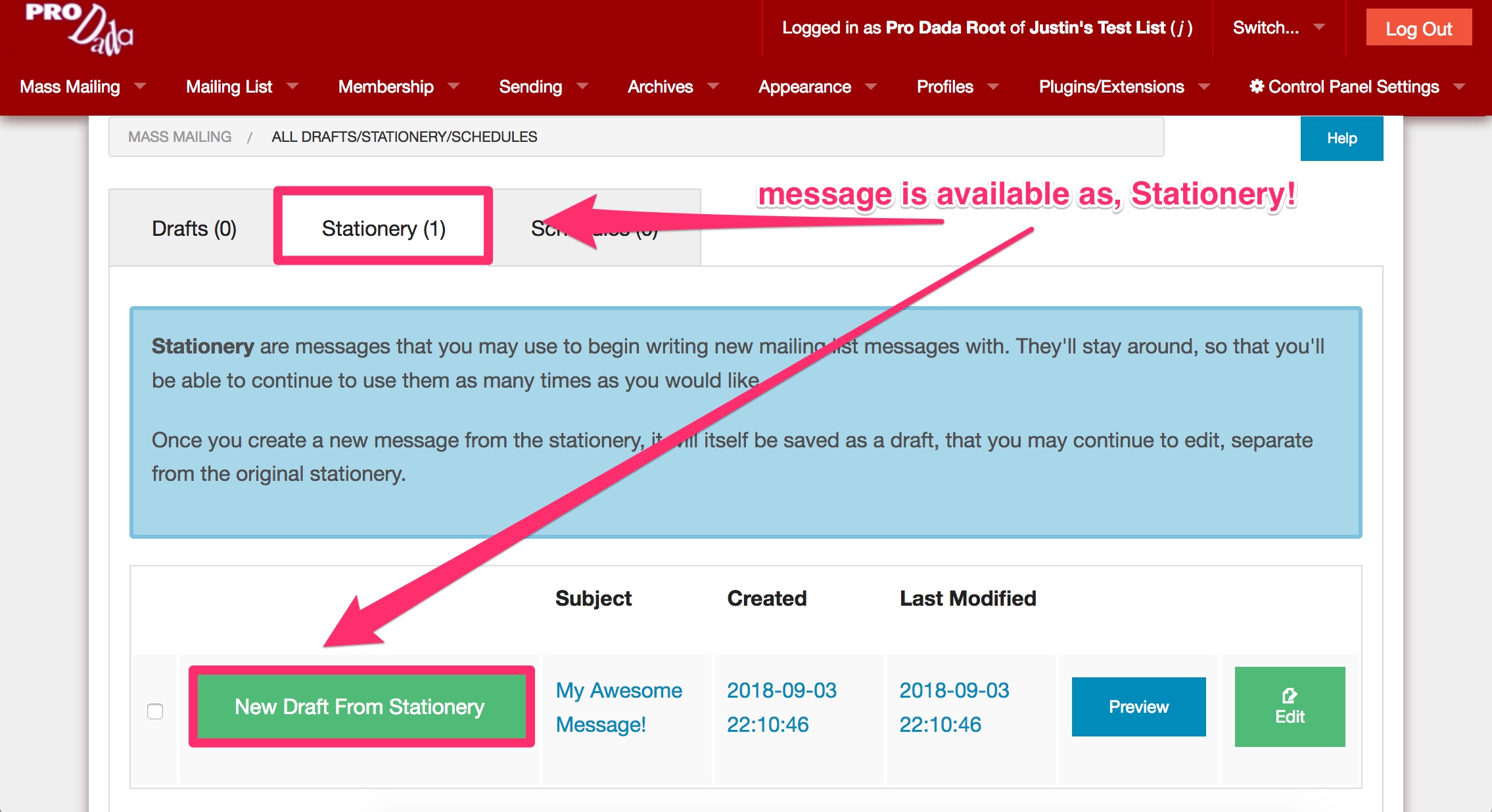 New Ignore Bounces Sublist
Discussion List Owners have reported that sometimes there's one problem domain with important list members, who have an uncooperative mail server that seems to bounce back messages coming from the discussion mailing list. If the bounce handler is installed, eventually these members will be removed from the list, even though their address is valid. Ugh!
To counter this, Dada Mail can now ignore addresses and/or domains in a new, Ignore Bounces sublist. Here's how to enable it:
Navigate to, Plugins/Extensions: Bounce Handler (the Bounce Handler will need to be installed and configured).
Find the option labeled, Enable Ignore Bounces
Check this option, and Save.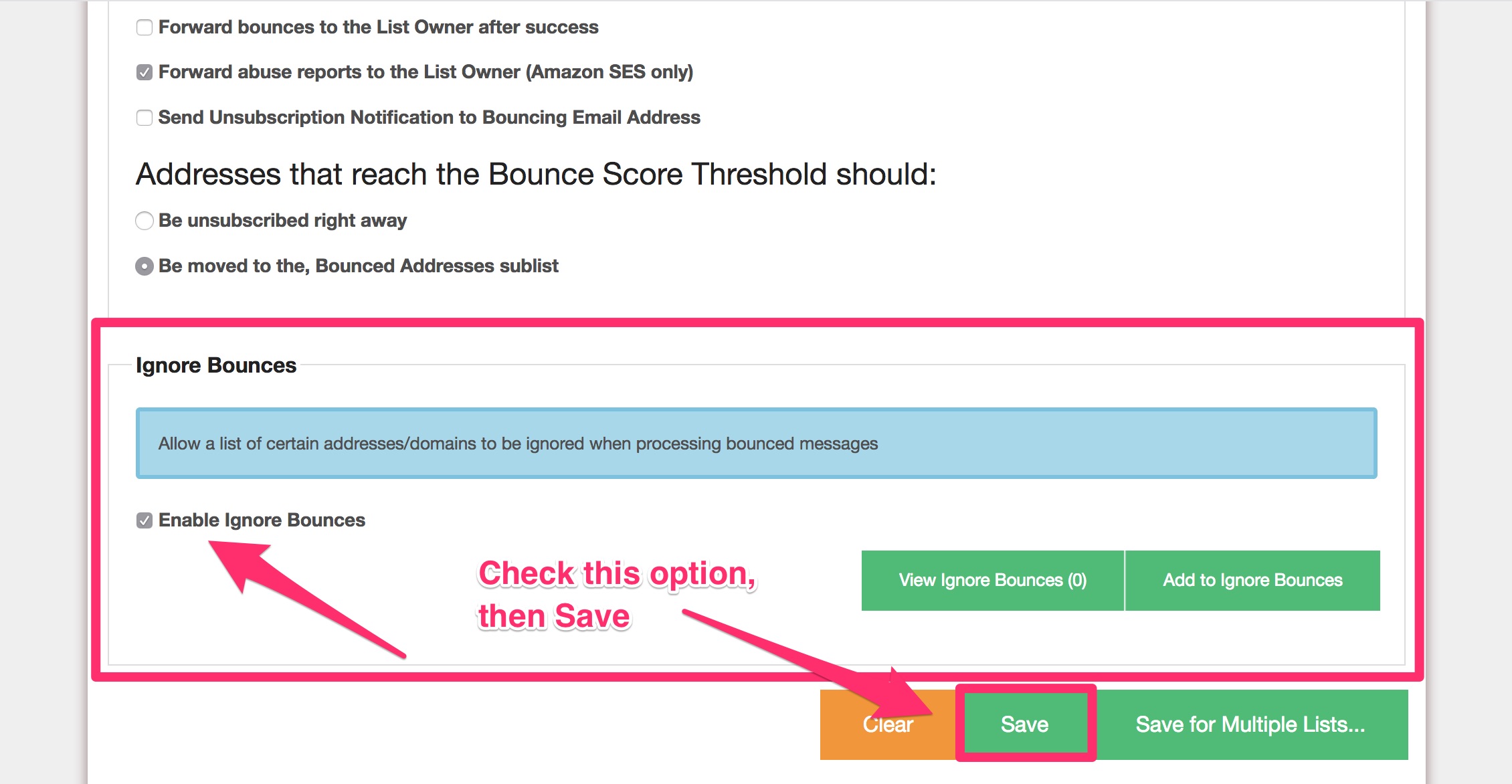 Now, when you visit the, Membership: View screen, a new tab will appear labeled, Ignore Bounces which will allow you to administrate this sublist like any other sublist: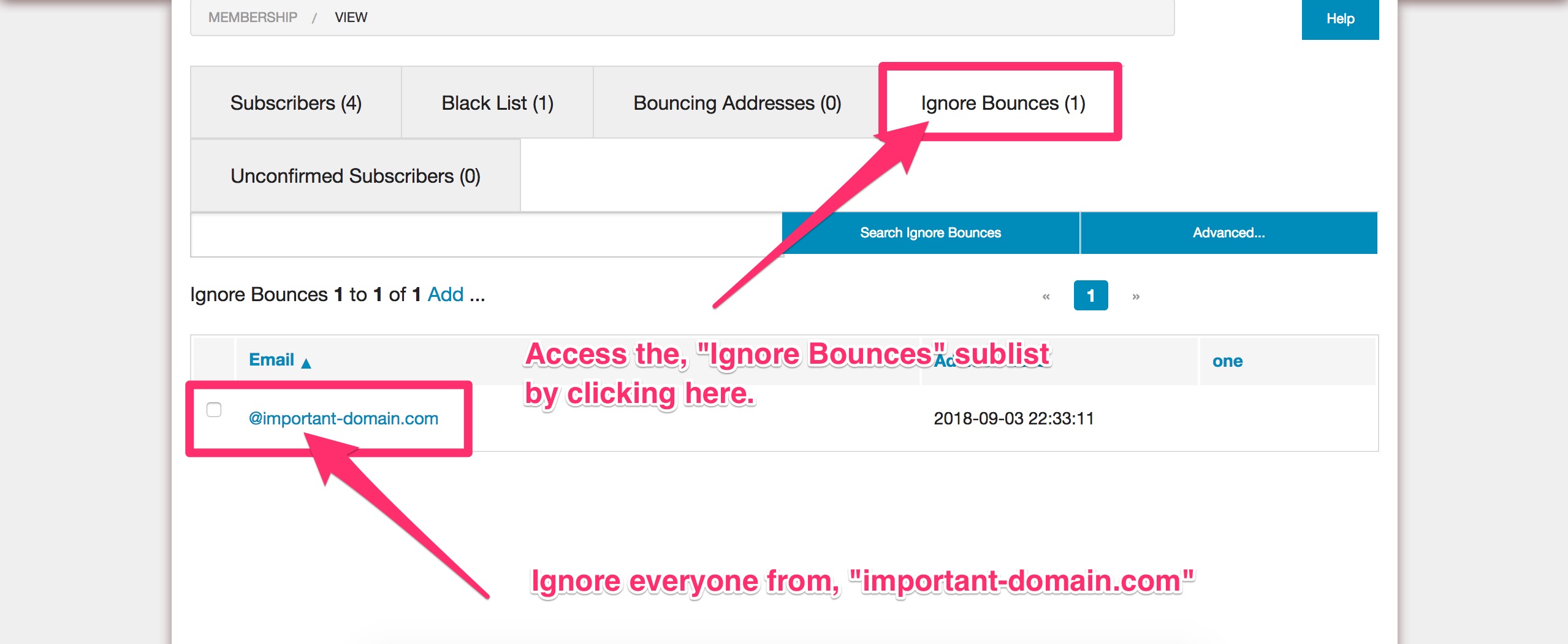 The Ignore Bounces sublist works similar to the Black and White lists, where you can either enter in a specific address, or just part of an address. For example, adding @important-domain.com will direct Bounce Handler to ignore all addresses bouncing from from important-domain.com. Adding steve@ will ignore any email address with, steve in it, like steve@another-domain.com or steve@third-domain.com.
If these features sound awesome, give v11.2.0 a try! If you need help with installation or upgrading Dada Mail, check out our install/upgrade services!
And please, let us know how Dada Mail is working for you!